T-33677 & 28591 ~ ARCHIBALD NEWELL STANDRING ~ A.S.C. & 2/5 KOR (LANCS) REGT.
The year was 1981 when Robyn W. and her husband Warwick bought themselves a 'doer upper' house at 35 Roberta Drive in the Auckland suburb of Glendowie. The house had been tenanted for the previous 12 years and when the W.'s took possession, in Robyn's words, "it was completely wrecked." Not only was the house a wreck but the grounds were not much better. Robyn and Warwick later found out that the former tenant was a known thief with a number of like associates who variously stayed/lived at the house, and that the Police were regular visitors to the property.
Robyn said that at one point during their renovation of the property Warwick was removing the roof and found bedding in the ceiling where the tenant (or an associate?) would hide whenever the Police called. Warwick had also found a brand new boxed hair dryer that he had obviously been 'borrowed'. Jokingly, Robyn said she did feel somewhat sorry for her new neighbours as the entertainment that had been provided via the antics of the previous occupants, plus the comings and goings of the Police and 'visitors' to No. 35, had ceased quite suddenly when Robyn and Warwick took the house over – "it must have been very boring for them when we purchased" she said.
'Buried Treasure'
Apart from the need to renovate the house, the W.'s also needed to attend to the grounds which were in an equally neglected state. Warwick had started to dig over what had once passed for a vegetable patch when he unearthed an area that seemed to have been used as a fire pit and general rubbish fire incinerator. Apart from the mountain of ashes and half-burned rubbish Warwick uncovered, the excavated fire pit also contained the remnants of lots of non-combustible trash the tenants dumped into the fire prior to quitting the property. Tins, bottles, jars, broken crockery and glass, and so forth were typical of the contents found among the sodden ashes.
While excavating the pit Warwick came across a pile of blackened New Zealand penny coins. Judging by the remnants in the pit he thinks the coins had been in a cardboard box when the set fire to. It was obvious they had been through a fire by their burnt appearance and it was while picking out the coins Warwick came across the medal. After he washed and cleaned the medal it was revealed to be a British War Medal from the First World War, as the dates on the reverse indicated. Robyn and Warwick correctly presumed that the original owner was quite probably dead by that time, but also thought the medal too special not to be rid of. So Robyn washed the medal and has kept it safely "as is" in her possession for the last 39 years.
Robyn's medal, a British War Medal, 1914-18 was impressed with, DVR. A. N. STANDRING. A.S.C. A check of the UK Archives and on-line Medal Cards confirmed the medal had been awarded to Archibald Newell Standring, a Driver, who had served in the Army Service Corps and also as an Infantryman in the 2nd Battalion, the 5th Royal King's Own (Lancaster) Regiment, one of 12 territorial battalions formed from the King's Own Lancaster Regiment for the First World War.
The medal itself has clearly had a hard life. It has a number of dents and gouges on the surface and edge, and the ribbon suspender and claw was twisted and bent. We decided to leave it as is and for a professional to attend to its restoration once it was returned to the family. The family was pre-warned of the medal's condition and so were not too disappointed when it arrived. The medal will be restored in due course and returned to its almost issued state, but for evidence of some of the more severe 'dings of its history' that represent its 100+ years of survival in the worst of circumstances, 70 of those years being away from its rightful home in Wales.
Robyn and Warwick spent the next 20 years renovating No. 35 until they had a marketable asset. 17 years ago they sold the house and moved on to St. Heliers. Having seen MRNZ featured in a newspaper article, Robyn sent me a letter together with the medal in January this year and asking if we could possibly try to reunite the medal with family. The inscription immediately indicated to me this case would likely be an international return which can be a significant challenge and very time consuming, but .. yes, of course we would try to reunite find a family descendant.
My first thought was "immigration" – had Archibald Standring immigrated from his home to NZ? While there were quite a number Standring families still living in New Zealand, my check for an historical immigration record for an A. N. Standring who would have arrived in New Zealand after 1918, drew a blank. This led me to conclude the medal probably arrived in NZ either as the result of an international purchase and subsequent loss or theft, or perhaps it had been carried/sent to NZ by its previous owner (possibly a relative?).
In order find a descendant of Archie Standring's I first needed to establish whether or not he had survived the war. The UK Roll of Honour proved he had not been killed or died during the war and therefore in all probability had returned to England. His family structure was next, which would enable me to trace their movements as well as Archie's employment history post war. Census and BDM records can build most of the picture of a families whereabouts, who has survived and who not, and who has produced offspring and who not. These are crucial for establishing a close ancestral link to those living in the present.
DVR/ PTE Standring's Medal Card
My first real clue to finding the Standring family was Archie's post war home address that had rather uniquely been written on the back of his Medal Card. This is a relatively rare occurrence as most cards are blank of any other detail apart from the medals. An address was sometimes added for medals administration purposes, particularly if the were returned as a result of a soldier moving and not leaving a forwarding address, or if subsequent issues of medals or clasps needed to made after the initial dates of issue, for soldiers who had emigrated, and for those involved in very early operations of the war. As the war ramped up and the numbers of soldiers increased dramatically, it was not possible to record all the details one would normally have added in peace time.
No. 40 Milford Street is located in Mold, a town today of about 10,000 inhabitants in Flintshire, Wales on the banks of the River Alyn. It is the administrative seat of Flintshire County Council, previously the county town of Clwyd from 1974 to 1996. The details of Archie Standring's home address allowed me to locate his and other associated members of the Standring family in Flintshire, and to trace Archie's movements through the national censuses, both from birth and after the war. As the on-line records cease after 1981, I next resorted to on-line family trees to try and make a personal contact in Wales.
Standring family of Denbighshire, Wales
The next part of my research, whilst some of it being more than was necessary to achieve the return of the medal, this case resulted in a most unexpected outcome, much more than the return of the medal on its own could have achieved ….. but I will let the story speak for itself.
Archibald Newell Standring (Snr) who was widely known as 'Archie' was born in the town of Madeley, Ironbridge in Shropshire, England on July 1st, 1894. Archie's father, Robert Standring (1868-1946) was a Clogger (a maker of clogs [industrial footwear] and protective leather garments for industrial workers e.g. aprons, gloves/mitts etc). Robert married Archie's mother, Elizabeth Ann THOMAS (1869-1928), in Denbighshire, Wales in 1888. The Standring's had five children: Robert Thomas (1888-1959), Frederick Nicholas (1890-1948), Ellen (1891-1891), Archibald Newell [Snr.] (1894-1972), Mafeking Elizabeth Ellen SALISBURY (1900-1978 – nee Standring, formerly BEVAN). Interesting girl's name "Mafeking" – her birth year is a clue?
Territorial and Regular Army service
In 1911 Archie Standring, then 14 years of age, was employed as a Tin Plate worker in Mold. As soon as he was eligible he joined his local part-time Territorial army unit and was placed in the Army Service Corps. By early 1914 all the indicators at the time pointed towards an impending war with Germany and that it was possibly only months away as the stability of Europe crumbled.
Army Service Corps (A.S.C.)
With the potential for war in Europe ever increasing at this time, Archie volunteered for full-time service hoping to go overseas however his age held him back. T-33677 Driver** (DVR) A. N. Standring had been attested for service and placed in the Army Service Corps (ASC) at the Woolwich Dockyard in early 1914. With no military file to consult it was Archie's Medal Card I had located on Ancestry.com that gave me a useful incite into his service.
By interpreting the acronyms and number/letter combinations on the card, as well as the medals he had been awarded, I was able to put together a picture where and what Archie had done during his service. The first thing I noticed was that his regimental number, rank and unit had undergone a change, and that he had served in two different units, in England and overseas. His date of birth had also placed him in a category of young soldiers who were precluded from full-time service until they had turned 20. His regimental number indicated he was a Territorial soldier but one who was not yet old enough to serve overseas. His date of birth placed him in a category of young soldiers which were precluded from full-time service until they had turned 20. The regimental number series told me he had achieved a level of training, but that additional was required before he could join a battalion on full-time service overseas (once the age criterion was met). The date he had started qualifying service for medals on his card also indicated that he had been under age (19) until the 1st July 1914.
Whilst an ASC soldier, Dvr. Standring had served with No.3 Company of the 2nd Divisional Train, ASC which had been heavily involved with the movement of supplies, vehicles and animals in preparation for the BEF's operations in France. The word "Divisional Train" has its origin in 'wagon train', and is Army-speak for a column of motor vehicles, animal drawn wagons, pack-horses, camels, mules or ships/boats – a logistics/supply unit (train) moves food, water, troops, fuel and equipment in order to sustain an Army at war. Another form of 'logistics train' being an Ammunition Train.
Ironically it was Archie's last medal to be issued (1914 Star) that indicated to me he had been among the first soldiers to be mobilised and had arrived in France with the British Expeditionary Force (BEF). His date of arrival was written on the Card – 18 August 1914, six weeks after his 20th birthday. The Medal Card was marked with the issue of three medals for his war service, with the Star being the subject of a separate note on the back of the Card showing it was applied for on 19 October 1919. The other two medals were awarded to all soldiers who had been mobilised overseas before 31 December 1915, which of course Archie had.
Note: ** All soldiers in the Royal Army Service Corps are enlisted at the rank of "Driver" (DVR) which is equivalent to "Private" in the Infantry. All RASC personnel start with this designation whether a Driver, Cook, Storeman, Steward, Tailor, Butcher etc.
5 King's Own Royal Lancaster Regiment
Archie Standring's Service Attestation (contract) was altered in July 1916 once he came of age and completed the additional training required for posting to a battalion overseas. As 28591 Private (Pte) A. N. Standring he was re-rolled to an Infantry battalion for service in France. He might still be utilised as a driver when required but was first and foremost an Infanteer. Pte. Standring was then signed on for the "Duration of the War" (however long that might be) and posted to the 2nd Battalion, the 5th King's Own Royal (Lancaster) Regiment; in short the 2/5 KOR (Lancs) Regt.
The 2/5th KOR was one of 12 Territorial battalions which had been formed in September 1914, and a duplicated back-up/replacement of the 1/5th Battalion – the first Territorial battalion mobilised, it landed in France in May 1915. Archie's battalion, the 2/5th, landed in France in February 1917.
Little more is known of Pte. Archie Standring's actual war service activities other than that he survived to tell the tale. He had not been wounded, he returned after a considerable period away, and was entitled to two more medals for his service.
Medals: 1914 Star, British War Medal, 1914-18 (found by Robyn & Warwick) and Victory Medal
BEF Service overseas: 16 August 1914 – 19 October 1919
Total time overseas: 5 years 65 days
~~~~~~~~~~~~~~~~~~~~~~~
Welsh connection
With this background I was able to make contact with Ancestry tree authors, John and Sylvia Mooney of Wales, who had parts of the Standring family tree within their family's ancestry. Oddly enough it did not include Archie however from experience I have often noted many family trees of extended relatives are frequently incomplete as distant relatives are not usually the focus of a tree author, their own family is. Having emailed John and Sylvia with my information, John was able to come back to me quite quickly with the name and address of a Standring family in Prestatyn, Clwd. Perfect, there had to be a connection since that was the area Archie had lived in for the best part of his life until he died.
In checking the address on Google Earth I found a delightful period stone cottage, built as a farmhouse in 1867 so the owner later told me, still standing in the Gronant Road of a now densely populated Prestatyn residential precinct. The house owners were non-other than Archie Standring's grandson and wife, Roy and Sylvia Standring. Talk about 'apples not falling far from the tree' … I was delighted to make contact with a direct and close descendant of Archie Standring so quickly.
After several email discussions with Roy, he passed to me what little information his surviving and extended Welsh family members knew of their grandfather Archie. However the information was sufficient to enable me to extend my search beyond Archie's war service.
~~~~~~~~~~~~~~~~~~~~~~~~
As for many WW1 veterans, Archie Standring had been deeply affected by his five years at war and returned a moody, remote man not given to the pleasantries of social intercourse. He had taken a series of labouring jobs and in 1917 at age 23 married 28 year old Elizabeth Ann FRIMSTON from St Asaph, Denbighshire. A son, Albert Newell Standring (Jnr) was born at St Asaph on 11 Oct 1928.
Roy's mother Lily indicated that Archie's demeanour got him off-side with people and as a consequence was not well liked. Today we would probably recognise this type of post-war behaviour as Post Traumatic Stress Disorder – a condition in military veterans which took decades before it was acknowledge or understand as a bona fide war injury that required specialist treatment. Unfortunately Archie's temperament and disposition had also resulted in his grand children spending more time with their maternal grandparents than with their paternal grandparents.
Roy said that in Archie's later years Archie had worked as a labourer at a power station, about 15 miles from where he lived at Connah's Quay in Prestatyn. He was dogged with leg problems in his later years and retired from the power station when he could no longer move freely. Roy remembers in the 1950s his grandfather having a problem with his left leg which caused him to be largely house-bound. In order to leave the house Archie would have to strap on a caliper to his left leg in addition to using a stick to walk.
In spite of his fractiousness with family members, work colleagues and various village residents, Archie Standring lived on until he was 75 years of age. He passed away at Aled in Prestatyn Clwyd, Denbighshire, Wales in March 1972.
Kiwi connection – Albert Standring, a lost son
Albert was 11 years old when the Second Word War erupted in Europe. The Standrings had grown up near the Port of Liverpool and as a result all four of Albert's brothers served in the Royal Navy. By the time the war ended in 1945, Albert (17) had already spent nearly three years in the 'pit' – coal-mining. Envious of his brothers RN service, with the war over Albert was keen for a job above ground and so opted for a career with the Merchant Navy.
He completed a course of training at the Shipping Federation's Catering Training School in Liverpool and in may 1945 signed on to his first ship as a Galley Boy (kitchen hand), the SS Nathaniel Matthews, an ocean going bulk dry-goods freighter headed for South Africa and Australia. Albert's home port remained Liverpool, crewing ships that served ports in the UK and internationally – Albert was lucky enough to celebrate "VJ Day" on 6 Sep 1946 in Perth, Western Australia. Subsequent voyages saw him progress in the stewarding ranks to Cabin Boy, Asst. Steward, Asst. Officers' Steward, Silver Room Steward, Asst. Engineers Steward, 2nd Steward, Waiter and Chief Steward. Albert remained in the Liverpool area predominantly sailing out of Garston, Birkenhead or Liverpool docks to foreign destinations such as New York, Montreal, Durban, St Vincent – Cape Verde Islands, West Australia, Sydney, Melbourne, Auckland and Wellington as well as various "inland ports" as they are called dotted around the UK such as Avonmouth, Hull, and Glasgow.
Having visited NZ on a previous voyage, for whatever reason Albert did the unthinkable whilst in Auckland and had either jumped ship, or it had sailed without him – possibly distracted by the delights of what Auckland had to offer an 18 or 19 year old young sailor. He was subsequently located by the police within weeks and deported to the UK. Apart from facing the UK authorities and answering to his employers for his actions, Albert's merchant career sailed on so to speak until 2nd April 1952 when he paid-off from his last ship (MV Stanpark) and opted for the life on land.
It would seem Albert (23) may have had a motive as later that year he took the plunge and married 22 year old Kathrine L. COOPER at Holywell in Flintshire. The marriage was brief. Anecdotal evidence from Roy suggests Albert's head may have been turned by a another lady he had met. The result was that Albert decide to emigrate with this person. Following a big send-off party at the Standring family home. Following a big family farewell party at the Standring family home in Elsinore, Palmeira Gardens Prestatyn, Albert apparently bought a ticket for two and left Southampton on 6 June 1954 aboard the RMS Tamaroa destined for Auckland, New Zealand (legally this time) never to return to Wales.
The Tamaroa's manifest gave Albert Standring's age as 28 and his occupation as "Spinner" (a textile factory worker – minds a spinning machine, which attenuates and twists fibre into yarn; keeps machine supplied with material, controls power drive of machine, and clears faults). Albert's nominated address in Auckland was: 9 Hulse Avenue, Sandringham, Auckland.
The first official reference to Albert's presence in NZ after 1954, was in the 1963 Census which cited him as living at 34 Washington Avenue in the Auckland suburb of Glendowie. Residing at the same address was "Esther Rae Standring, (occupation) – Married"! Had Albert taken the plunge again (legally or illegaly?) by marrying a second time? Try as I might I could not find any record of his or Esther's marriage to each other. Perhaps Esther was a relative of some sort as there were other Standrings in Auckland (no relation as I later found out).
Mrs Standring ? – Esther Chapman v Esther Chapman
Having found Albert in the NZ Census, apparently with a 'wife' Esther Rae Standring, I wanted to try and establish whether Esther Standring had also been the woman Albert had left Katherine Cooper for, and bought the "ticket for two" to NZ for. Of course there was also the possibility Albert may have either been rejected, or himself had rejected, this alleged 'other woman' and had simply decided he did not want to be married and emigrated to escape whatever situation he was in. But I needed to explore the possibilities as the answer could lead me to descendants in NZ.
With the 1963 census record, I next looked for any evidence that supported a scenario of Albert travelling to NZ in the company of a woman at any stage from the time he left Wales after his family farewell, until his arrival in Auckland. I started by scrutinising the RMS Tamaroa's passenger manifest looking for either a "Miss" or a "Mrs" Esther Rae Standring or similar. With over 500 passengers on the ship and having checked every passenger entry on the manifest, I found nothing obvious in these names. It seemed Esther Standring was not on board ….. or was she ?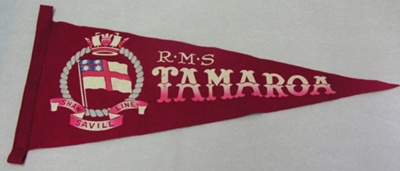 One entry had caused me to momentarily pause, an entry for a Mrs Esther R. Chapman. I thought little more of it as other than the same first name and middle initial as Esther Standring's, "Mrs" and "Chapman" was enough to have me look for something more conclusive.
As I considering the circumstances under which Albert had left England, if he had travelled with Esther Rae to NZ, I saw a number of possibilities whereby Albert could have engineered their departure together from England. By travelling not as a married couple but rather as independent passengers, both would avoid any unwarranted attention until such time as they were miles away.
The clues that led me down this possible path started to stack up as my research progressed:
Albert being a former career Merchant Navy seaman knew the 'ropes' and so would have been well placed to get "the wheels oiled" should he have needed assistance from the crew to assist his "wife's" incognito travel.

The entry in the passenger manifest that named a Mrs Esther R. Chapman had caught my eye because of its similarity to Esther Rae Standring's

name.

M

rs Chapman's first name was also Esther and her declared destination in NZ also in Auckland.
Esther Standring's second name was Rae; Mrs Chapman's second initial was also "R" but it was not able to find it in full anywhere.
There did not appear to be a Mr Chapman on the manifest.
Mrs Chapman gave her age as 26; Albert was 28 – NZ records had shown Esther Rae to be almost two years older than Albert. A handwriting/interpretation error in compiling the manifest could explain such a minor variation.
Albert Standing and Mrs Chapman had both boarded the RMS Tamaroa in July 1954, bound for the same destination – Auckland.

Mrs Chapman stated her occupation to be a Machinist; the census showed Esther Standring was also a Machinist.

Mrs Chapman gave her English residential address in Bolton, Lancashire where she had been employed as a machinist – Albert's pre-embarkation occupation was "Spinner" – textile machinery worker and machinist could well have come from the place of employment? Additionally Bolton was also the birth place of Albert's father Robert Standring, and the home to a number of Standrings that Albert would have routinely been in contact with.

Bolton is only 41 kms from Liverpool, and only a few more from Prestatyn where the Standrings lived. Liverpool, and Manchester (capital of Lancashire) were central to Albert's maritime employment around the Liverpool docks.

Mrs Chapman gave her intended address in New Zealand as Takapuna, Auckland; Esther Rae and Albert were living in Washington Ave, Glendowie Auckland in 1963 – 25 minutes/ 19 kms from one to the other, both being east coast beach-side suburbs.

Albert and Esther would have had seven weeks together to plan for their arrival and future in Auckland.
There were clearly a number of similarities in these comparisons between the two women however it was a bit premature to draw a definitive conclusion. The other possibilities I considered were based upon the premise that Mrs Esther Chapman had been the 'other woman' but that she was NOT Esther Rae Standring:
After leaving his wife Katherine, Albert decides to abandon the 'other woman' and emigrates to NZ alone. Mrs Chapman just happens to be a bona fide passenger and despite similarities to Esther Standring, is in no way connected to Albert? Mrs Chapman ma

y have been Welsh, English or any nationality and could have simply been emigrating or returning to New Zealand from an OE or the like, after spending time (possibly the war years) living and working in England?

Albert and Esther Chapman (a contrived false surname and marital status?) possibly met at some point in time prior to the voyage, anywhere from Bolton to Southampton, and decided to emigrate to NZ to pursue their relationship. This being the case it would be logical for Albert to want to avoid unnecessary attention by travelling with the 'other woman' thus particularly as he was married – and so "Mrs Esther Chapman" is invented? New Zealand as a destination would certainly put sufficient distance between Albert and the situation he left behind him.

They board the RMS Tamaroa independently of each other to minimise any unwa

rranted attention.

Albert and Esther Chapman could also have met for the first time on the ship? A shipboard romance evolves during the seven week voyage to Auckland, whereupon they start a new life in Auckland together.
Initially, I had dismissed these notions on the basis that:
"Chapman" could have been a false surname
I had no way of knowing what Mrs Chapman's middle initial " R." stood for
Mrs Chapman was listed as "married" as opposed to a widow or other.
Although there was no Mr Chapman on board, could that have been Albert?
Mrs Chapman stated she worked and lived in Bolton – length of time unknown, possibly a permanent resident or visitor? The trip to NZ may have been a holiday / employment / family visit etc – many possibilities?
But, I still doubted my findings. Perhaps I was trying to make these facts 'fit' where in fact there was no match (a classic pitfall of genealogists). Had the overlapping similarities simply been coincidental – same first name and second initial, age +/-, same occupations, the Welsh connections, same destinations, a selection of plausible cover stories?
The last, and to my mind, the most significant piece of evidence to reject my earlier thoughts came after I decided to trace Mrs Esther R. Chapman once she arrived in Auckland to see where she lived and what the name of her husband was. The problem was there were TWO Esther Chapmans in the Auckland census around this time, one being Esther R. Chapman and the other, Esther P. Chapman. The latter lived in New Lynn and was married to a Clerk, Thomas William Chapman. On looking further at Esther Pauline Chapman's history I noted she had remained a married lady to Bill Chapman until she was widowed in the 1970s, and had lived her whole life in Auckland. She had appeared in every census from 1919 to 1978 including the years she technically could have been in Bolton! Mrs Esther P. Chapman was NOT Mrs Esther Rae Standring. But what about Mrs Esther R. Chapman?
Clearly I had a problem. The first was that there had obviously been an error in recording Mrs Esther Chapman's middle initial in the RMS Tamaroa's passenger manifest, being an R instead of a P (probably a handwriting issue although manifests were usually typed by this time), and second, Mrs Esther R. Chapman, wife of Thomas William Chapman, had only appeared twice in the census records before disappearing altogether. This really put the cat among the pigeons for this researcher.
At this point I decided to conceded – that which had seemed an almost limitless number of possibilities to support Albert and the 'other woman' being on the same ship, just did not quite cross the threshold of proof for my liking. For me there was insufficient compelling evidence, no dots that actually connected, to prove that Mrs Esther R. Chapman of 13 Rose St, Bolton, the passenger on the RMS Tamaroa, and Esther Rae Standring of 34 Washington Ave, Glendowie, Auckland, were one in the same person, or that there was even any evidence to support the idea that Mrs R. Chapman had even known Albert Standring. With nothing more to draw on, these ideas would remain just that, ideas – I decided perhaps I was over-reaching for a solution …. or was I?
~~~~~~~~~~~~~~~~~~~~~~~~
The Standring's in Sydney
After settling into rented accommodation in Auckland Albert persuaded Esther they should go to Australia for a period of time with a view to living there permanently. "Mr & Mrs" Albert Standring, as they titled themselves, left Auckland in December 1954 for Sydney. Once they had found accommodation in Sydney, Albert took a job with James Hardie Industries, a large firm specialising in the manufacture of building products, more specifically building cladding and roofing products, and many of which were made using asbestos (now prohibited).
While in Sydney Esther gave birth to their first and only child, a son Graham born in 1955 (this information was only made known to me after speaking with Graham). Dissatisfied with his work at Hardies, Albert made a very unpopular decision that led to a most unsettling period for Esther and baby Graham. Albert decided he was going to go back to sea and to a job he new well and far more comfortable doing – he had signed onto a cruise ship as one of the ship's Stewards.
Not long after Albert's stint at sea had finished, the Standrings returned to Auckland in early 1956 and again joined the rental merry-go-round moving several times into and out of flats before a house was available to them. Albert in the interim had taken a job as a house painter with a painting and decorating contractor. By 1963 the family was established at 34 Washington Avenue, Tamaki.** Around 1969 Albert once again had the desire to go to sea again – perhaps there were more rewards in Stewarding than house painting? Needless to say this bought about an inevitable and permanent rift between Esther and Albert and so they resolved to part company for good after some 15 turbulent years together.
The 1969 NZ Census had shown Rae Standring (as she was known from this time) living at an address in Clairville Crescent, Tamaki. Her occupation was machinist and it is assumed she was employed in a local business to earn a living. Also listed at the address was Graham Standring – not before identified in any references to Albert and Esther.
Looking for a Albert's son
The appearance of Graham Standring in the census posed more questions than it did answers. clearly of working age Graham's occupation was listed simply as "Assembler" – of what ? – buildings, machines, bicycles, appliances, cars, bridges, scaffolding etc.? I personally associated the term with 'car assembly' or some sort of factory assembly line. But with no indication of Graham's DOB or in fact what his relationship to Rae, he could have been anyone from any of the related Standring families – husband, visitor, nephew, son, brother to Albert, uncle, a NZ/Welsh resident relative etc. If I was able to prove that Graham in fact was the son of Albert and Rae, this then could provide me the best possible lead to locate an appropriate descendant to whom I could return Archie's medal. What I really needed was a birth year to give me a start point – nothing appeared in the NZ BDM records or the remainder of Ancestry records (birth, death, marriages or immigration) re Graham, and no cemetery records to say he was deceased. A search of Australian Archives was also useless as birth records do not go beyond 1922. My only conclusion I could draw from these results was that Graham must have been born after 1937 – the current limit of NZ birth records on-line.
1981 is the Ancestry.com census record limit of on-line entries for NZ. BDM records only record the registration year of an event – birth, death or marriage – and not necessarily the actual year of an event, and then only those born 100 years old, or stillbirths at least 50 years ago. Marriage records are only available for those married 80 years ago, and death records up to 50 years ago unless the deceased birth date was at least 80 years ago. Sometimes useful conclusions can be drawn from a combination of marriage and death information. As more than 80 years have elapsed since Albert and Rae's birth dates, BDM records contained the deaths of both and fortunately for me, also detailed both of their birth dates. These are not always seen in the Death records, normally just the year of registration however can depend upon what was recorded at birth. A scan of the North Island cemetery and cremation databases to find Albert or Rae's final resting place also drew a blank and so ruled out any potential for finding useful information that may have been included on a headstone re children.
I then took a punt and typed "Esther Rae Standring" into Google and to my surprise, up came several obituary references. Rae had passed away in Auckland on 29 December 2017 at the age of 90. Being a recent funeral I was also fortunate in that the references to her death plus an on-line Memorial Book, had remained accessible in the funeral home's pages. From the entries in the Book I was able to learn a number of very useful facts: first, Rae's maiden name had been SUBRITZKY** and included her birth year and date of death; second, that Graham Standring (listed in the 1979 Census) was indeed her son, was obviously alive and therefore possibly traceable if still in NZ, and last, the Memorial Book had several entries from other family members (mainly Subritzkys) and gave me the names of Rae's three brothers and the partial name of a sister (Val), plus the names of some of her in-laws (brothers families) and their locations in either NZ or Queensland – plenty of potential contacts should I need them. This was a bonanza of information as far as I was concerned.
NOTE: ** Subsequent research of Esther Rae Subritzky showed she had been born at Te Koporu, Kaipara in Northland, in August 1927. Esther Rae was the fourth of five Subritzky children born to parents Letitia May WYATT (1896-1933) and Alfred Vivian "Viv" SUBRITZKY (1895-1983), a launch driver. Esther Rae had three older brothers – Vivian James, Samuel John and Leslie William, and a younger sister, Valerie Letitia RAPSON.
Re-establishing the NZ – WALES connection
Graham Standring, being Archie Standring's grandson and the only child of Rae and Albert, now became my priority to find and make contact with. Hopefully Graham would be able to resolve some of the many questions I had in attempting to complete the Standring puzzle. With only a few Graham Standring/Standings in the census records who had lived in New Zealand until 1981, they were not difficult to follow; only one appeared to be have been born in the 1950s. Before started making phone contact with my short list of possible candidates, I made one more Google search for "Graham Standring" as I had done with his mother – more good fortune – the information that appeared on-screen gave me an excellent lead to locate the only Graham Standring listed as living in Central Auckland. The man was a business owner and if the correct Graham Standring, had also had a fascinating and very successful sporting career.
After several attempts to phone Graham I eventually made contact (he had been away on a speaking engagement) – Bingo ! – Graham confirmed that his mother had been the recently deceased Esther Rae Standring, and that he was Rae and Albert's only child born in Sydney on 22 Nov 1955 (the reason there was no NZ birth record).
Then Graham dropped a bombshell ! He told me his mother was actually married at the time she and Albert had gone to Australia in 1954 and that her married name was, Esther Rae CHAPMAN ! I could not believe my ears as the penny suddenly dropped, somewhat deafening me. Mrs Esther R. Chapman on the SS Tamaroa manifest and Esther Rae Standring living at Glendowie, Auckland with Albert in 1963, were one in the same person !!!!
Without a family member to provide this information and Esther's maiden name, it would have been impossible for me to know that Esther Rae (Subritzky) Standring had been previously married (Chapman), or that she may have travelled to England at some point before 1954, and had worked as a machinist while living in Bolton, Lancashire. I was flabbergasted! I had essentially been on the right track all the time but without corroborating evidence, continued to doubt my findings. With Graham's input the picture suddenly become quite clear, while I was still reeling from the fact I had been closer to the truth than I had dared to believe.
In view of Graham's revelation I concluded that Albert and Rae must have either met either in Wales or Lancashire, thus ruling out any liaison proximate to boarding the Tamaroa, or a ship-board romance scenario. The anecdotal evidence I had from Roy of Albert buying a 'ticket for two' before he left home not only had become valid but also supported the notion Albert had known Esther whilst he and she were both in relative proximity to each other – Wales, Lancashire or both – most likely Liverpool, Manchester or Bolton.
"Mrs Esther Rae Chapman" had also appeared to be travelling alone (no Mr Chapman on the ship's manifest). If indeed Mrs Chapman was Esther Rae Standring, she and Albert would have been reasonably free to associate as they wished while on the ship .
The reader can perhaps appreciate just how convoluted some family searches can be and assumptions dangerous, when trying to unravel circumstances in the pursuit of descendants with which to reunite medals …. but wait, there's more ….
Once the RMS Tamaroa had arrived in Auckland it was also very likely Esther Rae Chapman's marital status to her divorcee husband, William 'Bill' Chapman, very likely altered within a matter of weeks as Albert and Rae had planned to go to Australia. "Mr and Mrs Albert Standring" sailed for Sydney NSW in December 1954. By claiming to be "Mrs Standring" Rae could conveniently avoid potentially searching or embarrassing questions, as well as evading a costly (and public?) separation and/or divorce. The Standrings of course kept their secret close, presenting as a typical married couple visiting Australia from New Zealand for an unspecified period. No questions or problems regarding their legal status was ever apparent from Graham's knowledge. As he told me, his mother and Albert in fact were never formally married – ever. (the reason I could find no marriage references)
Rae had continued to be known as "Mrs Standring" as long as she and Albert lived as husband and wife, both in Australia and in NZ. This was probably important for Graham's identity also however as he tells me, because of his parents unmarried status, in order for his birth certificate to be legally correct he had to be recorded with his mother's legal married name – he was named on his birth certificate as "Graham Chapman". From Graham's point of view when growing up, he had only ever known himself to be Graham Standring and, like his mum, has been known by that name all his life.
Last, Graham was able to bring me up to speed on his father's employment, and of his death when Graham was about 19. From that time on, Graham (formerly married himself, no children) had supported and cared for his mother until her death in 2017.
** Graham STANDRING has gained national and international acclaim as a highly successful champion speedway midget race car driver. At least half of his successes have been notched up on his much loved track, and the home of midget car racing in New Zealand – the Western Springs Speedway in Auckland.
Graham started in the sport at the Springs in the 1983/84 racing season and was still competing in 2015, about the same year he retired from active racing. During his racing career Graham has claimed four national titles. He also claimed his 100th win in feature races on the Western Springs track – an achievement that earned him the nickname of "Mr 100%." Graham's life has revolved around midget car racing and the Springs from the time his mum Rae Standring used to sell tickets at the gates of the Stadium when Graham was very young. His enthusiastic commitment to racing, management and administration of midget car racing and the Western Spring's Speedway, was acknowledged by his appointment as the first ever and only "Ambassador of the Western Springs Speedway", a title he still proudly holds.
Graham Standring's 30+ year career and outstanding list of successes in Speedway racing was very suitably capped off in 2012 when he was inducted into the NZ Speedway Hall of Fame. While his active racing days are now behind him, Graham is kept busy as the owner of several WASHWORLD self service vehicle grooming stations in Auckland. When he does have a spare moment, Graham is in demand as a guest speaker by sporting bodies and business houses around the country.
How did the medal get to NZ ?
Since first contacting Roy Standring in Wales, he has since discussed the finding of his grandfather Archie's British War Medal with his mother and together, they agree upon a couple of possibilities of how the medal may have turned up in NZ.
When Archie's youngest son Alfred Standring parted from his wife of only 18 months or so in 1954, after becoming involved with another, Albert bought a one way ticket to New Zealand for two people at a cost of £10 each, plus all that each of them could fit into one suitcase per person. This cheap fare gave rise to the term "£10 Pom", English migrants who were encouraged by a cheap fare to emigrate to NZ. The post-WW2 boom in New Zealand's growth desperately called for a skilled and unskilled labour force which had been severely depleted by the six year war.
Roy's mother, now 95 year old Lily Williams Standring (wife of Archibald Newell Standring Jnr.) recalled that after Albert went to New Zealand, the only members of the family he ever kept in irregular touch with was his father Archie, and mother Elizabeth.
Lily and Roy believe Archie had most likely either given his medal/medals to his youngest son as a memento before he left for New Zealand, or that Albert was sent a medal/medals by his mother after Archie's death in 1972. Giving family members a medal/medals, particularly sons, was a widespread practice after WW1 since the medals had little meaning for many. They served only to rekindle nightmarish memories of carnage and horror which most veterans were trying to forget. To these men, medals were just cheap and worthless tokens from senior military men who had let them down badly by their poor leadership which had cost the lives of thousands upon thousands of their comrades. Medals were the last thing they had been interested in.
Return of Archie Standring's medal
Archie Standring's British War Medal had presumably been in his possession after it was awarded but for how long can not be known. The conclusion that Roy Standring and his mother Lily came to is more plausible than that of the medal being a random purchase from the internet before or after Albert and Rae's Standring's deaths.
Of finding the medal among the penny coins in the old fire pit at 35 Roberta Street, it is perhaps logical to assume the medal may well have been kept with the coins, or at least was in close proximity when knowingly or unknowingly, the coins and medal were tossed into the fire-pit and burned with other refuse. Given the 'occupation' of the former tenants one could reasonably speculate with some degree of confidence the medal and coins had been the proceeds of an illegal act at some time. The pennies having no perceptible worth to their 'owners' along with the medal were simply thrown out with the trash?
These points of speculation are now unimportant in the light of the medal being found and subsequently looked after by Robyn for the past 40 years. The medal has now been reunited with Archie's grandson, Roy Standring of Prestatyn, Denbighshire, Wales who intends to have it restored. having provide my research to both Graham and Roy, they are now in contact with each other and now in a position to reconnect their NZ and Welsh descendant families that circumstances had separated.
Ii would be a bonus to find Archie's 1914 Star and Victory Medal and reunited them with the third medal? Both medals will be impressed with something similar to the British War Medal; T-33677 or 28591, DVR or PTE. A. N. STANDRING. A.S.C. or 2/5. K.O.R. REGT.
If you seen either of these medals named to Archie Standring I would very much like to hear from you.
Note: Coincidentally, after making contact with Roy he tells me he and his wife have made several visits to New Zealand to visit their eldest daughter, Archie's great grand-daughter who came to New Zealand in 2002 and now resides in Dunedin – the Welsh Standring connection in New Zealand is expanding already.
~~~~~~~~~~~~~~~~~~~~~~~~
My thanks to Robyn and Warwick W. for their diligence in finding and taking care of the medal, and for placing their trust in MRNZ to find a descendant. A big thank you also to John and Sylvia Mooney in Wales who were instrumental in making contact with Roy Standring's family in Prestatyn, and connecting Roy with me.
The reunited medal tally is now 240.